EXTENDED OPENING HOURS AT THE DISTILLERY THIS SATURDAY

Handmade Markets have been postponed but we are open this Saturday. Come in out of the cold for a warm Mulled Wine with Negroni. Yum! Taste our range while you're there.
10am - 4pm, 70 Dacre St, Mitchell, ACT.
NEGRONI, ANYONE?
Tim doesn't hesitate to say that he makes Negroni because it's what he likes to drink. You can whip up a basic version at home, but here at the Distillery we take the process a lot more seriously. 
The base gin is made from a Canberra region red wine. Then, where your recipe might have only a few ingredients, we bring together three vermouths and three different amaros, along with our own Dry Gin, for a much more complex flavour. It's a well-tested combination of imported and local ingredients that's the secret to its rich flavour.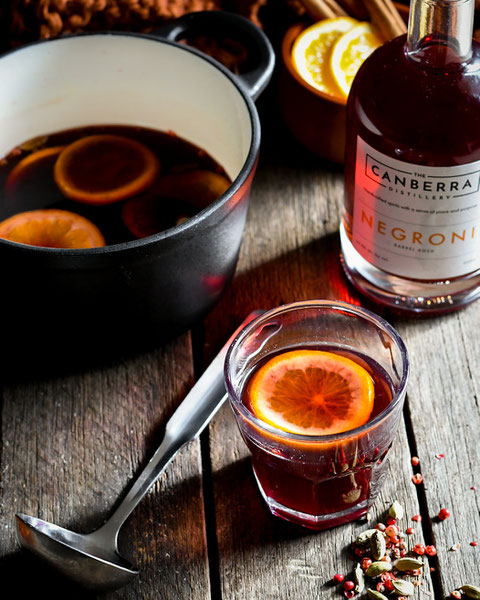 The Negroni mixture is then aged in heavily charred oak barrels to allow the flavours to develop but, it's a fine line between ageing to build flavour and leaving it so long that the vermouth begins to oxidise. 
Our expertise allows us to stay on the right side of that divide, bringing you a well-rounded taste where the mixture of spices and botanicals has been softened by the oak.
Being the Negroni-lover around here, Tim says all it needs is ice and a dash of mineral water. "The bubbles create an extra layer in there." Throw in a slice of graperfruit or, if you're feeling fancy, a charred cinnamon stick to echo the warm notes of the drink. Or perhaps put it in your mulled wine... [See below]
STAND OUT FROM THE CROWD WITH A PERSONALISED GIN THIS CHRISTMAS
Now is definitely the time to start thinking about Christmas. Let us work with you to develop a sophisticated offering for clients and staff this year.